Multi-Person Tracking Workflow
Multi-Person Tracking is an Exciting new update for Animate 3D 5.0.0 Release! We've prepared a simple workflow to guide you through the process, complete with tips and tricks for an optimal experience.
‍
Before You Get Started: Review Multi-Person Capture Guidelines.
‍
View the full guidelines here.
‍
Before diving into the workflow, let's explore some essential guidelines for multi-person AI Motion Capture.  To achieve the best results, consider these key points:
‍
Camera Placement: Position it to cover the entire capture area, keeping it still for accuracy. Avoid obstructions.
Character Spacing: Ensure enough room between individuals for free movement. Keep consistent spacing and avoid occlusion.
Distinguish individuals: Choose fitted clothing for clear joint markers. Maximize contrast with the background.
Additional Tips:
Use 1080p resolution or higher.
Maintain at least 30FPS.
Once your recording is complete, proceed to DeepMotion Animate Creator.
‍
Step 1: Open the Animate 3D Creator
‍
Multi-Person tracking seamlessly integrates into the standard Animate 3D creator workflow. You'll immediately notice a new feature: the single-person to multi-person toggle. This feature works for both 3D Animation and 3D Pose editing.
‍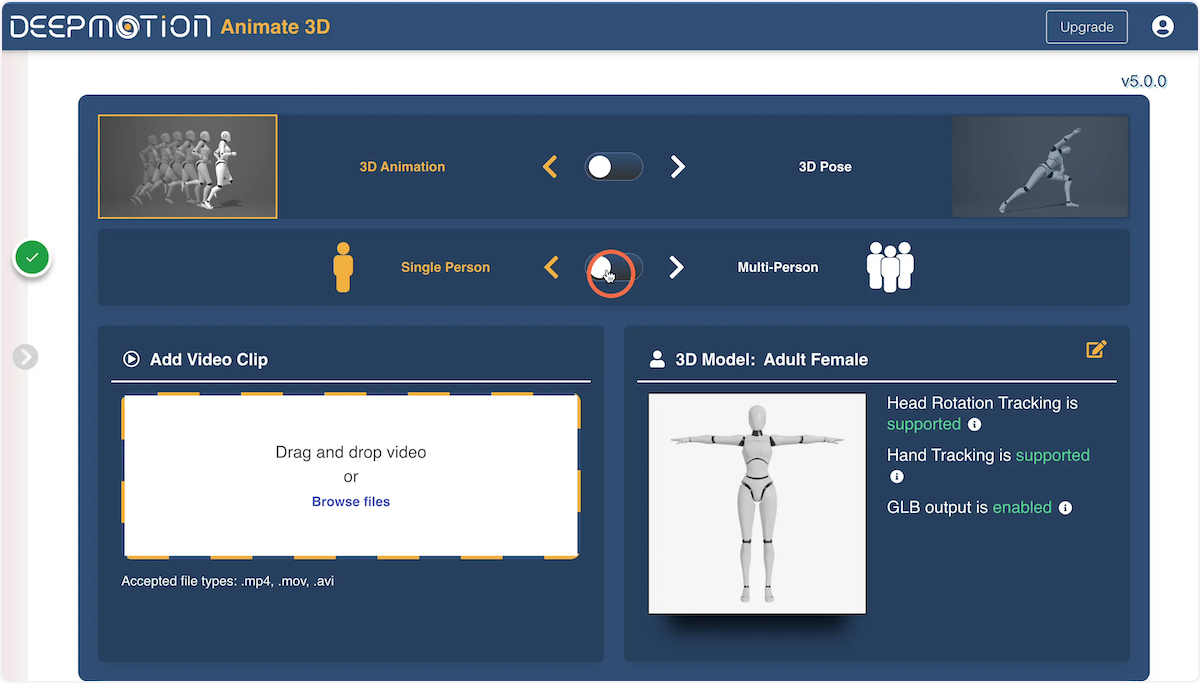 ‍
Step 2: Add Your Video Clip.
‍
Simply drag and drop your Motion Capture Video or select it from your computer files. Remember to hit "Save & Continue" to move forward.
Tip: Use DeepMotion Creator to Trim, Crop, and Adjust Video Settings as needed for optimal results.
‍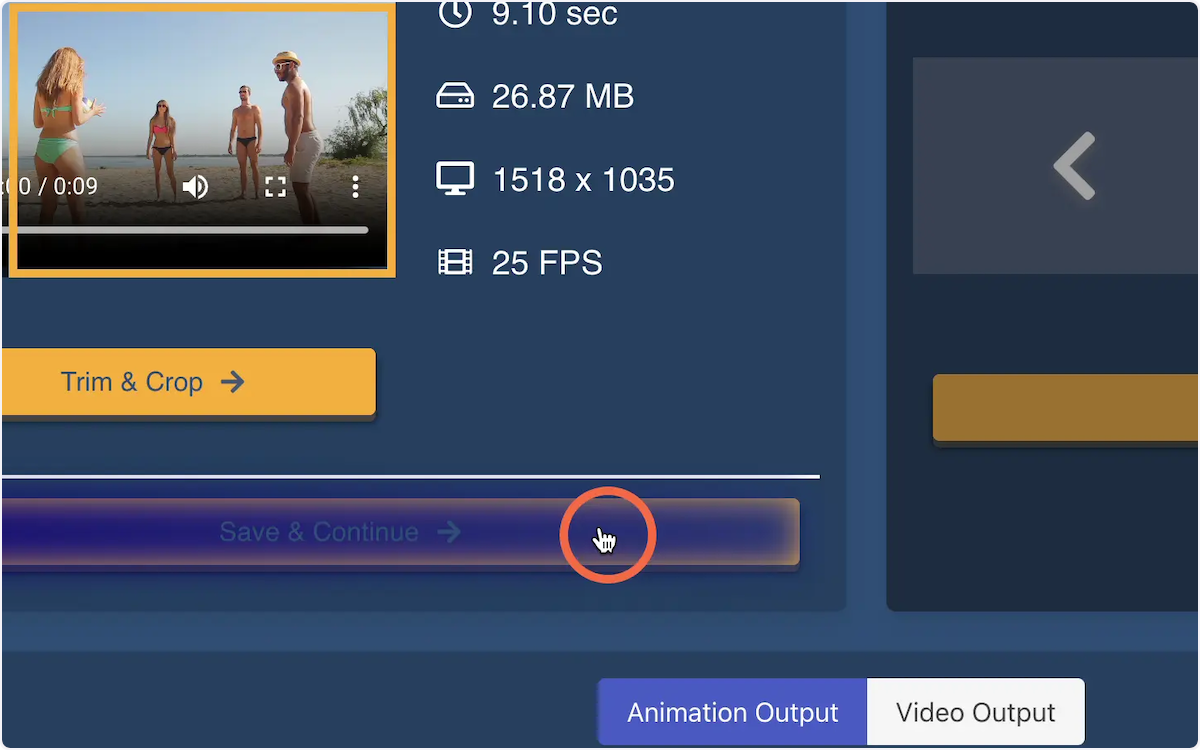 ‍
Step 3: Review Your Multi-Person Selection
‍
Keep in mind that your subscription plan determines the number of people you can track. In this example, up to 8 persons can be tracked. Our AI will automatically detect people within your video. After hitting "review," you can decide whom you wish to track and assign characters.
‍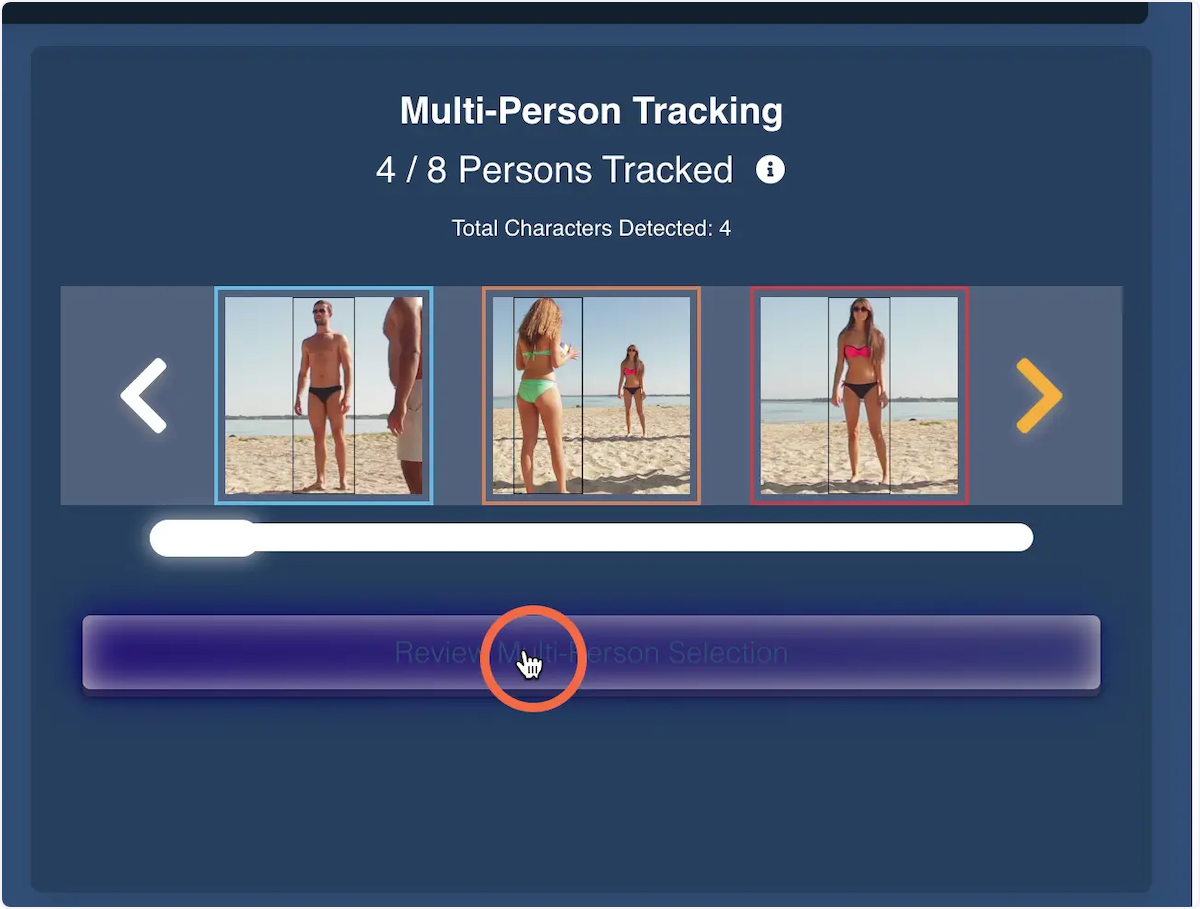 ‍
Navigate the Multi-Person Selection Using Arrows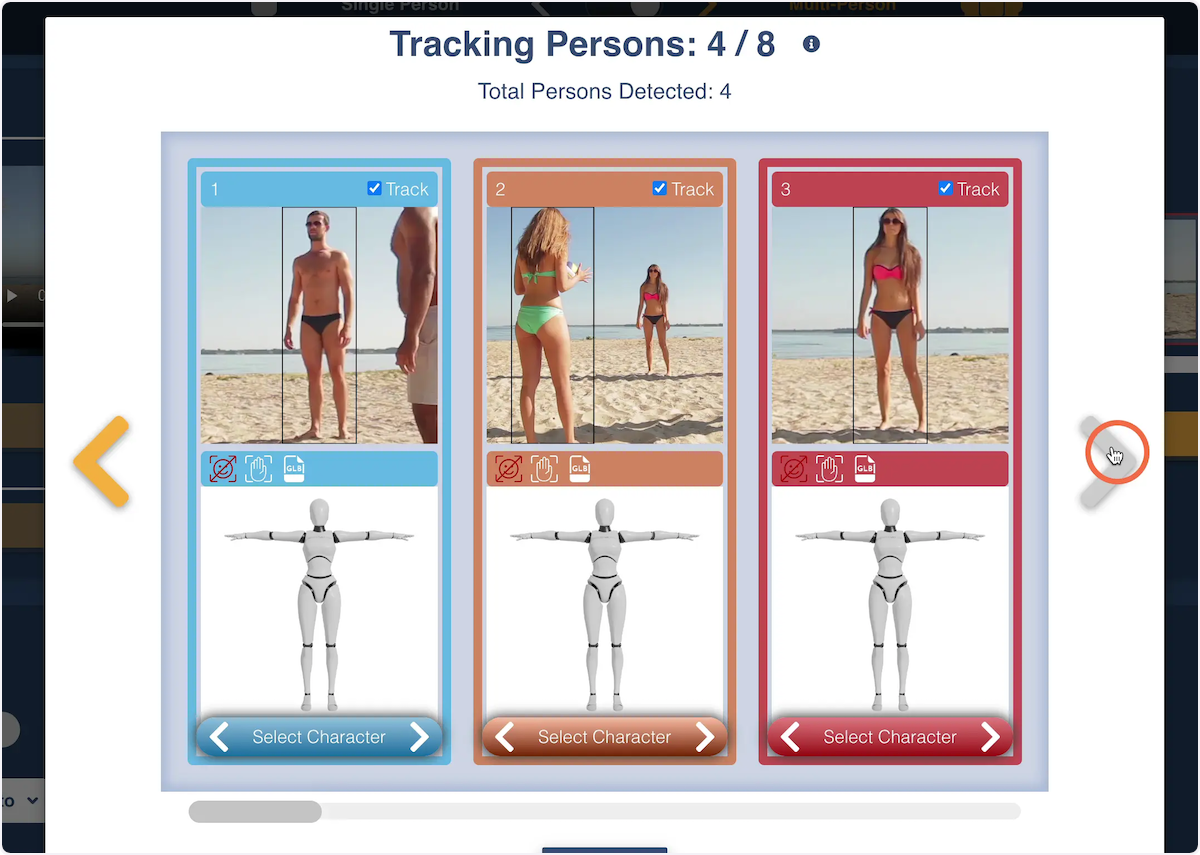 Select Characters Using the Arrows in "Character Select"
Icons will indicate compatibility with face tracking, hand tracking, and GLB export types. Once done, submit your selection and continue in the creator portal.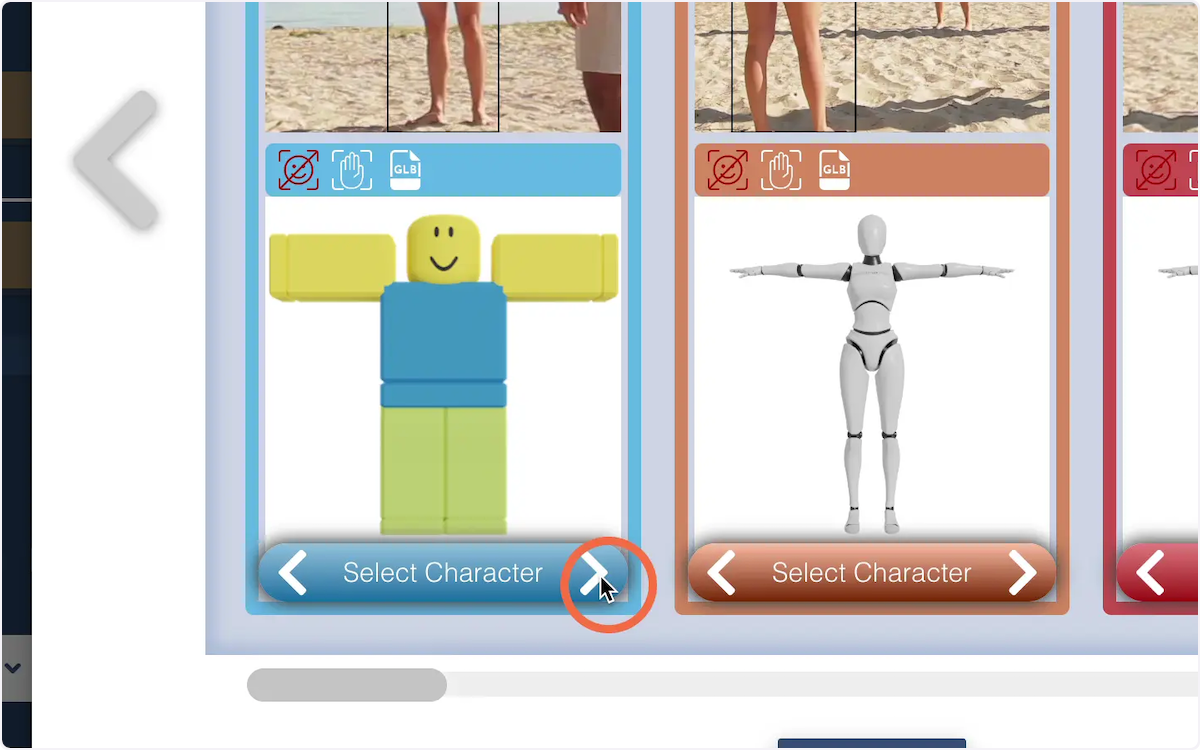 Step 4: Choose Your Animation and Video Output Settings
‍
Remember that your settings apply throughout the entire motion capture process.
Quick Tip: Ensure an Ideal Fallback Pose for Smooth Transitions and Optimal Results. For videos with slower frame rates (e.g., 25FPS), consider using the Speed Multiplier for Improved Results.
‍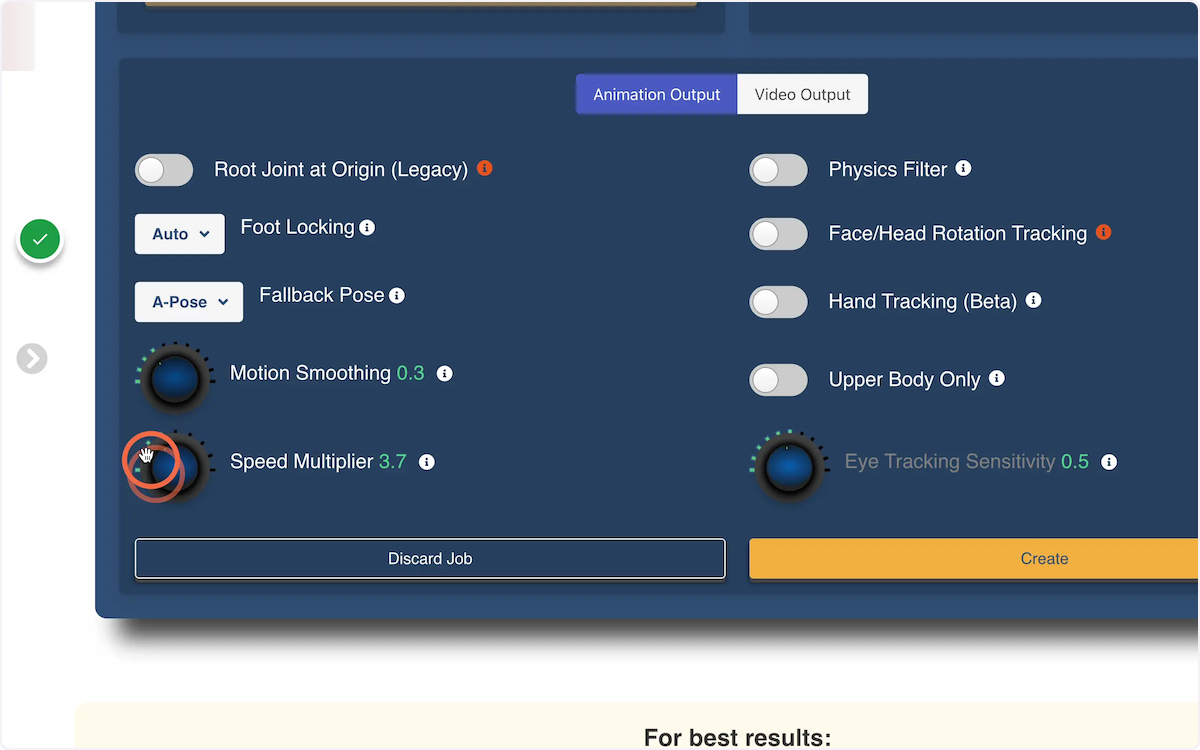 ‍
Step 5: Review Your Settings & Start the Job
‍
Keep in mind that multi-person tracking consumes more credits relative to single-person tracking and the number of characters used. When you're satisfied, initiate the job.
‍
FAQ: If you encounter issues during the "initiation process," remember that DeepMotion operates in the cloud. If problems persist, refresh your browser, or contact support.
‍
Step 6: Review Your Animation
‍
In our previewer, you can pan or zoom to view your animation in full 3D. Keep in mind that AI Motion Capture estimates distances and heights from subjects. Export your file to your preferred companion tool for the best results.
‍
Previewer Tip: Use navigation to focus on one person's animation at a time. In this preview, you can find your character or adjust their pose using the rotoscope pose editor. For multi-person tracking, eliminating occlusion yields the best results. If you encounter this issue, use the rotoscope pose editor in 2D or 3D to refine your animation frame by frame.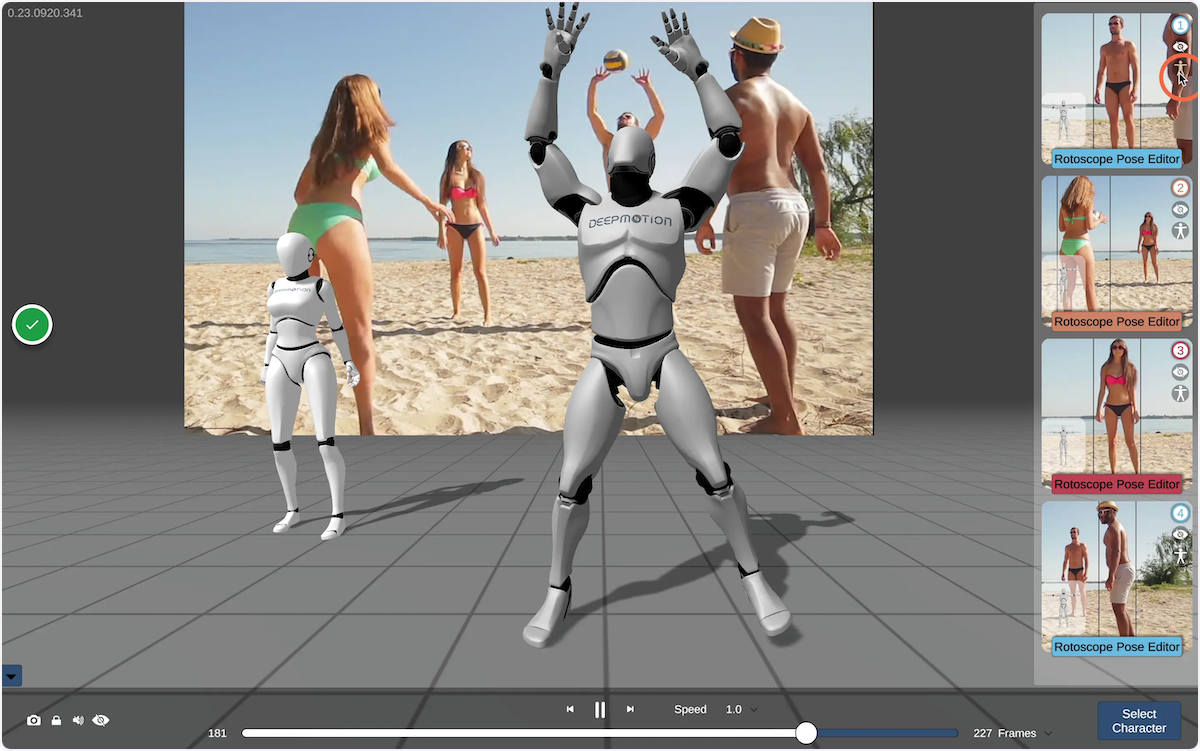 ‍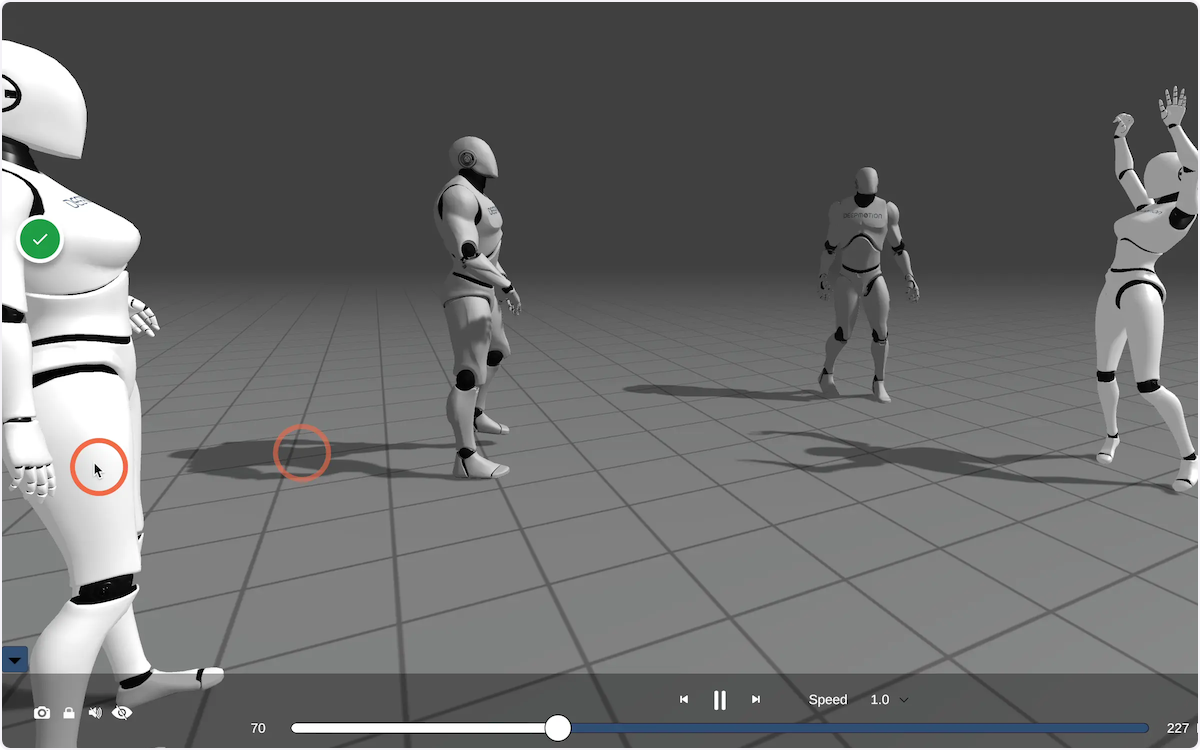 ‍
‍
Step 7: Download Animation Files 
Once you're satisfied with your results, it's time to download your animations. Select your desired file type for download. Note that you can download each character individually or as a group.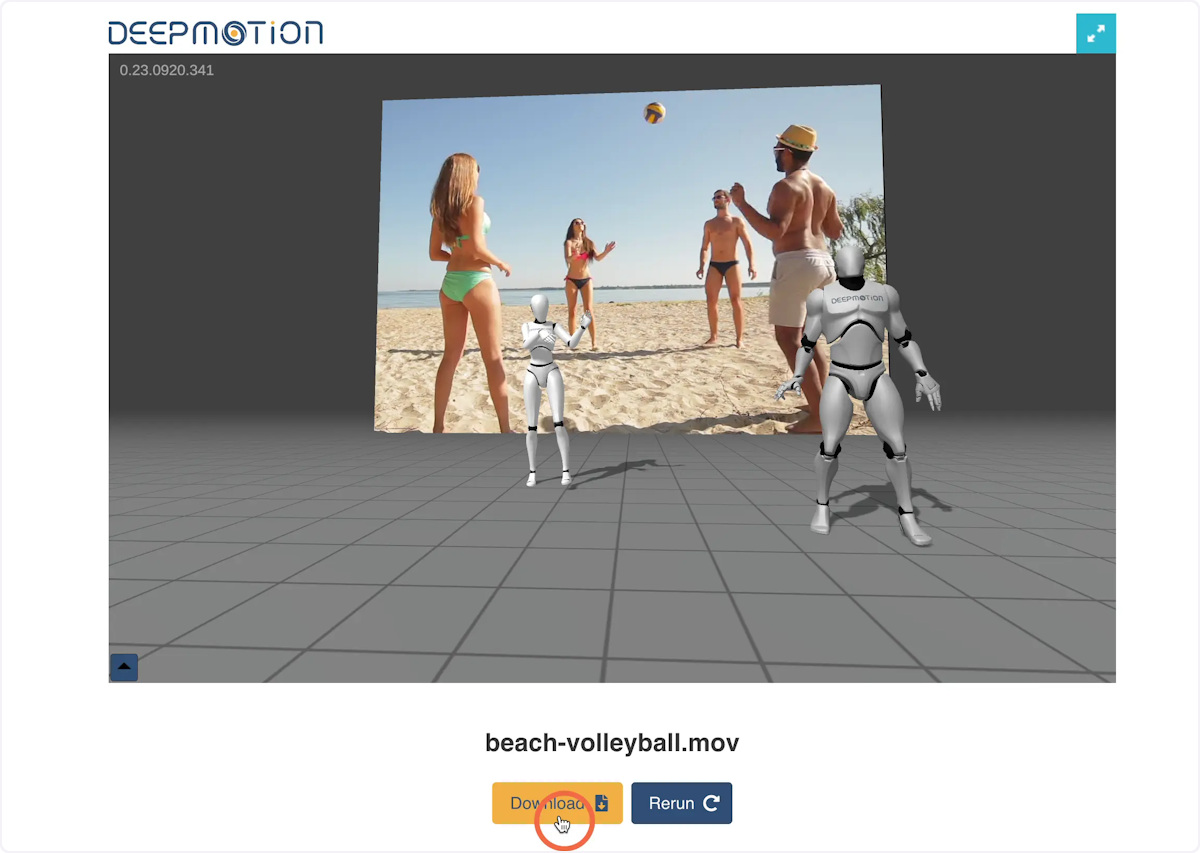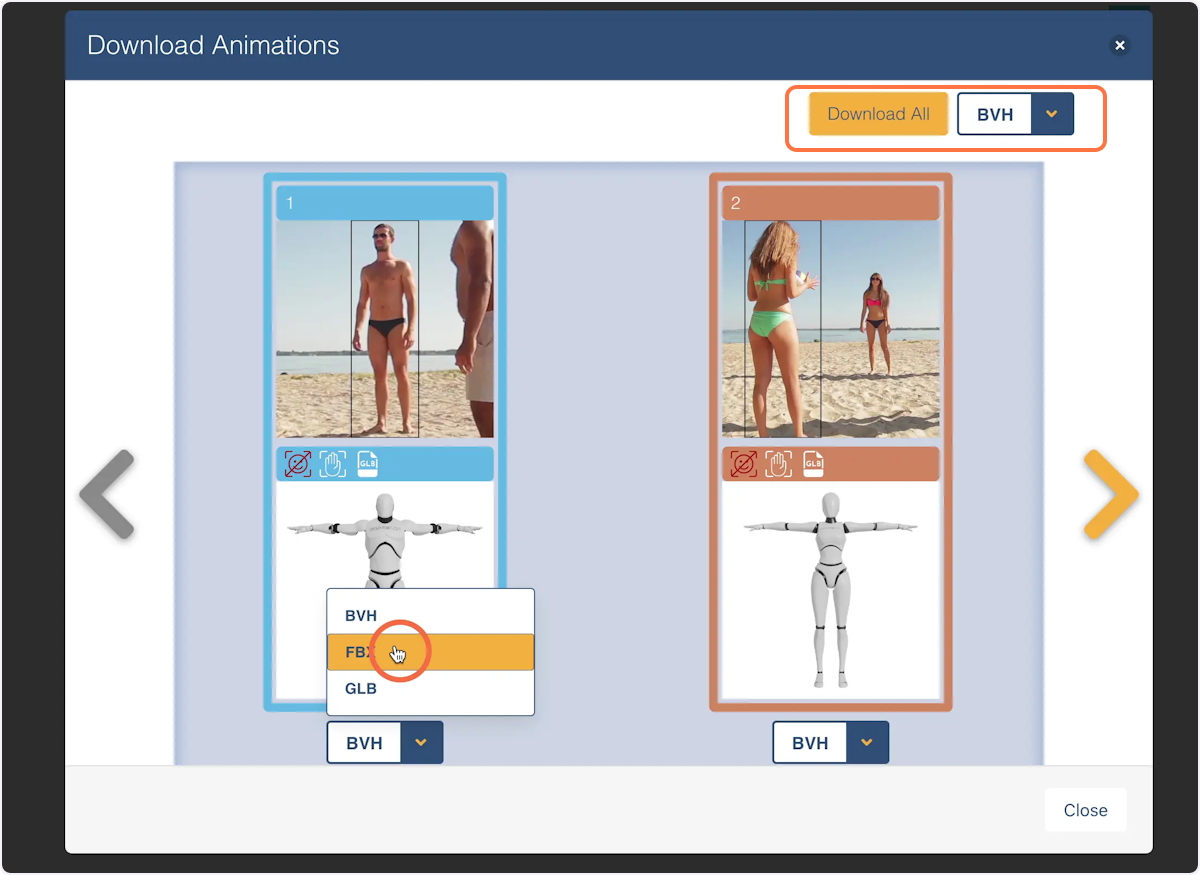 ‍
Get Started In Animate 3D